What's new in QuickBuild 12.0
QuickBuild 12.0 is shipped with OpenID single sign-on support, on-demand build agent launch via GCP, Kubernetes build agent resource kustomization, Mac M1 support, configuration tree state per gadget, dashboard import/export, GitHub organizational webhook support, server wide properties, file upload via RESTful api, RESTful api authentication via access token. And more
The free license is already included
Single sign-on via OpenID
Single sign-on via OpenID Connect protocol is now supported. Check the example setup for Okta integration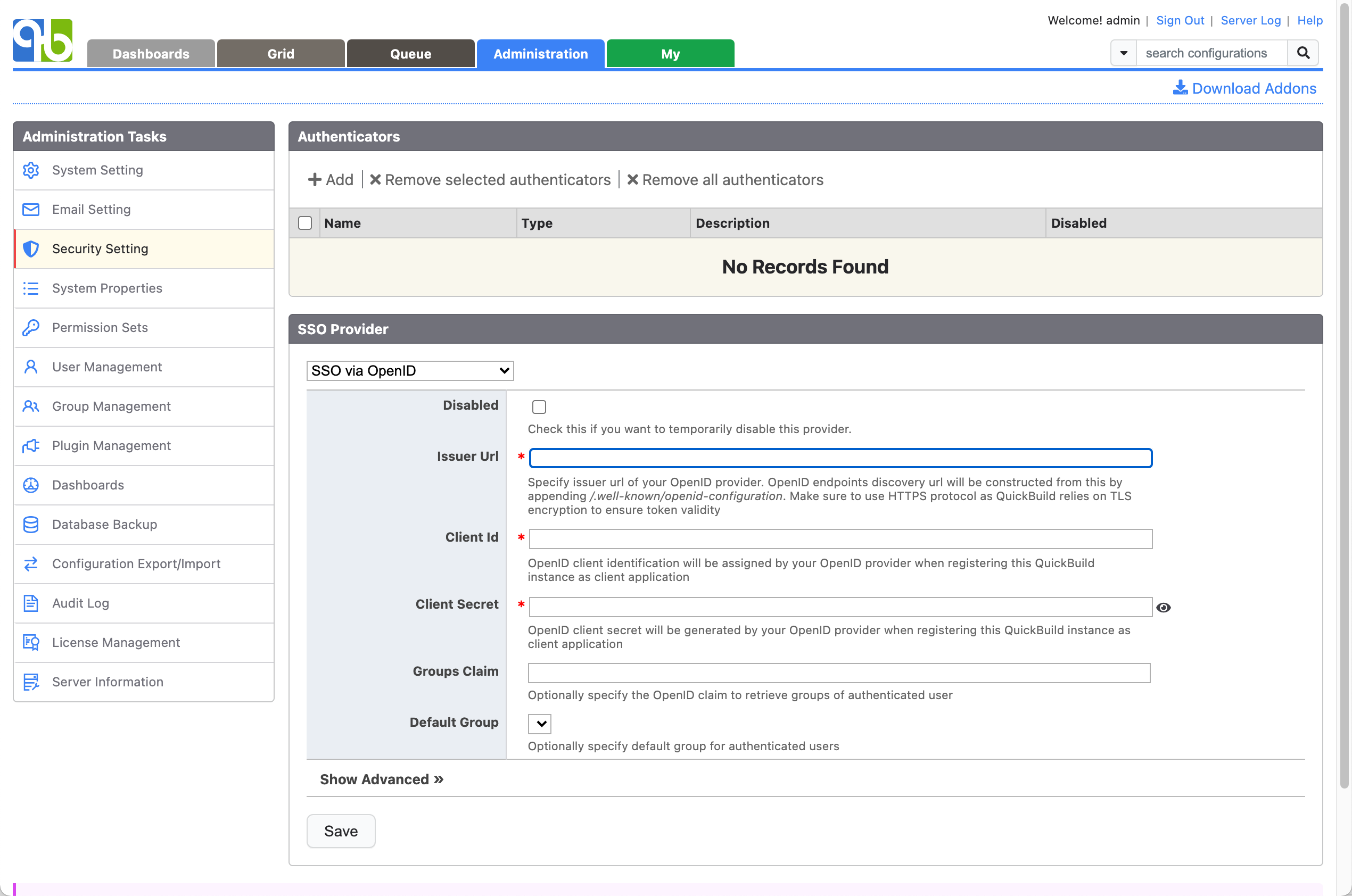 On-demand build agent launch via GCP
Build agents can now be launched on demand on GCP via instance template. Check GCP integration for details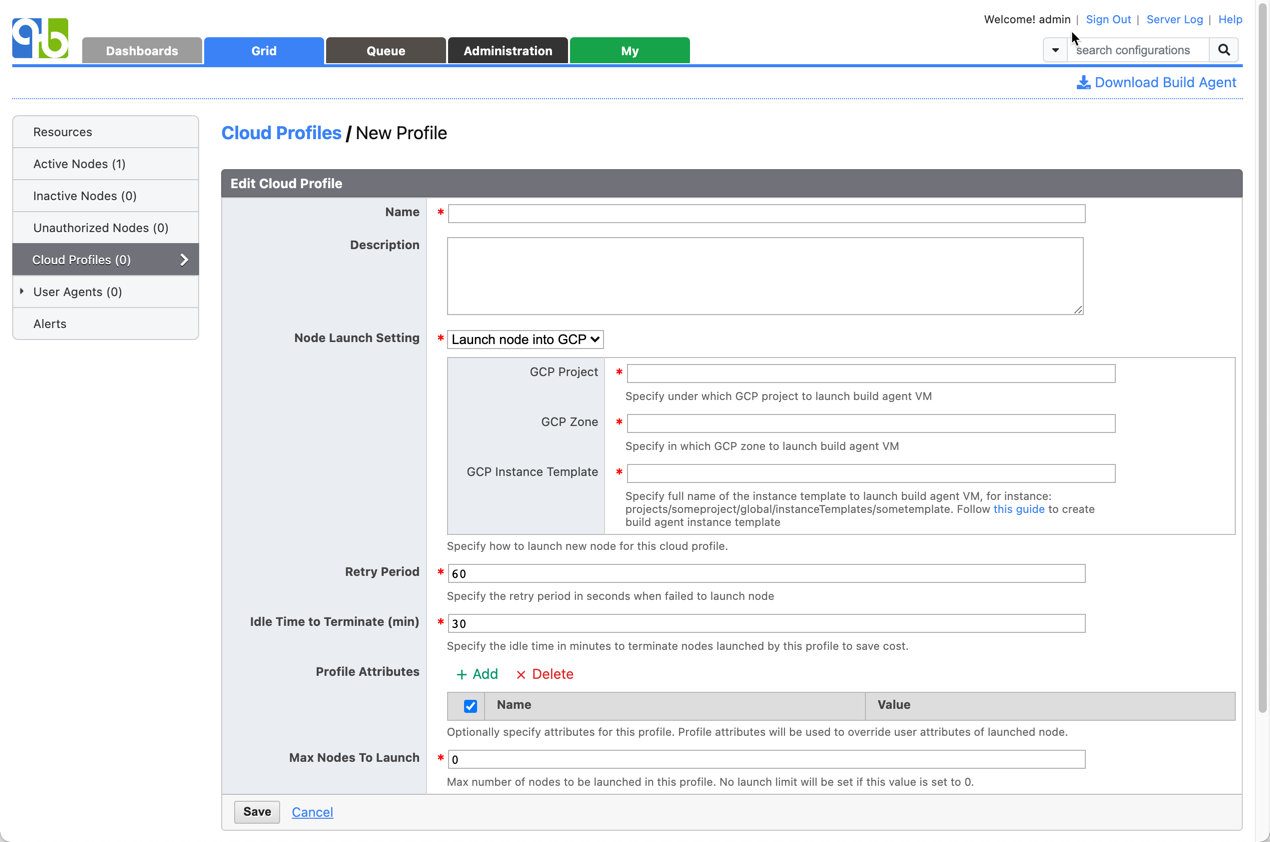 Kubernetes build agent resource kustomization
When build agents are launched on demand via Kubernetes, the associated pod and container resource can now be customized via kubectl kustomiation, to control settings such as node selector, resource requirement, volume mounts etc.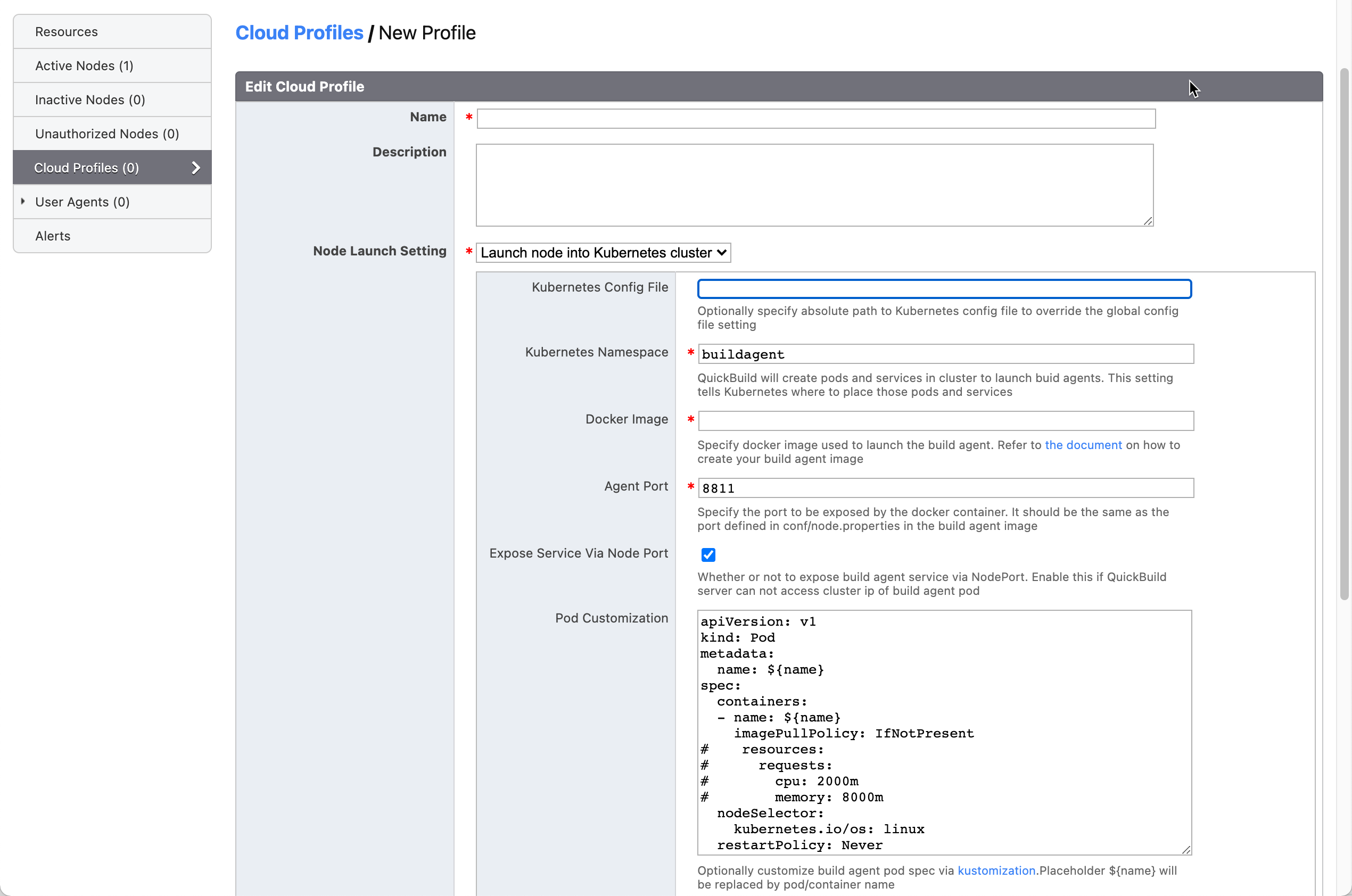 Mac M1 support
QuickBuild server and build agent can now run on Mac with M1 chipset
Configuration tree state per gadget
Each configuration tree gadget now maintains its own tree expand/collapse state, instead of sharing a global state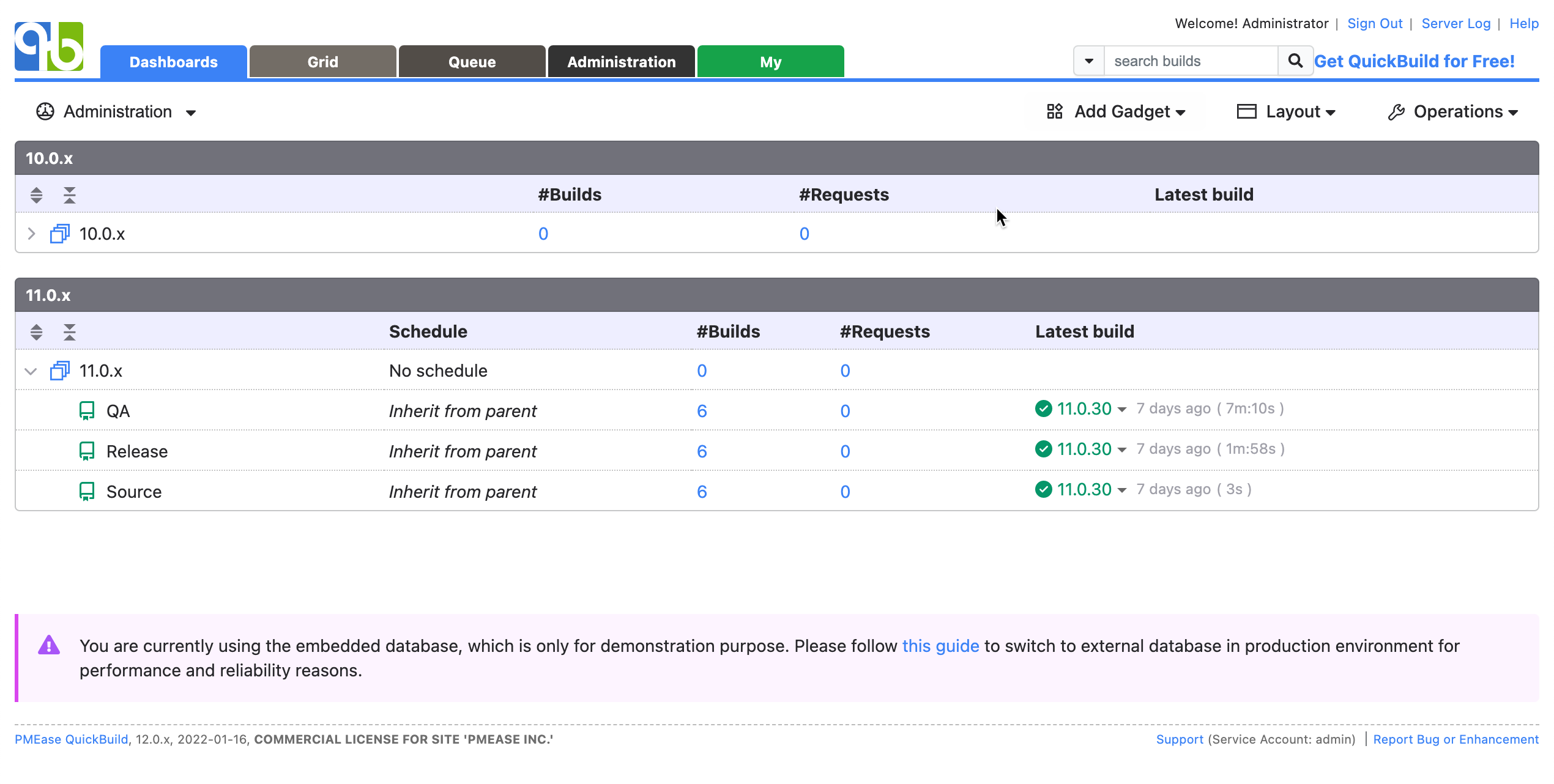 Variable prompt for html input
Vairable prompt setting sees a new type presenting CKEditor for easy html input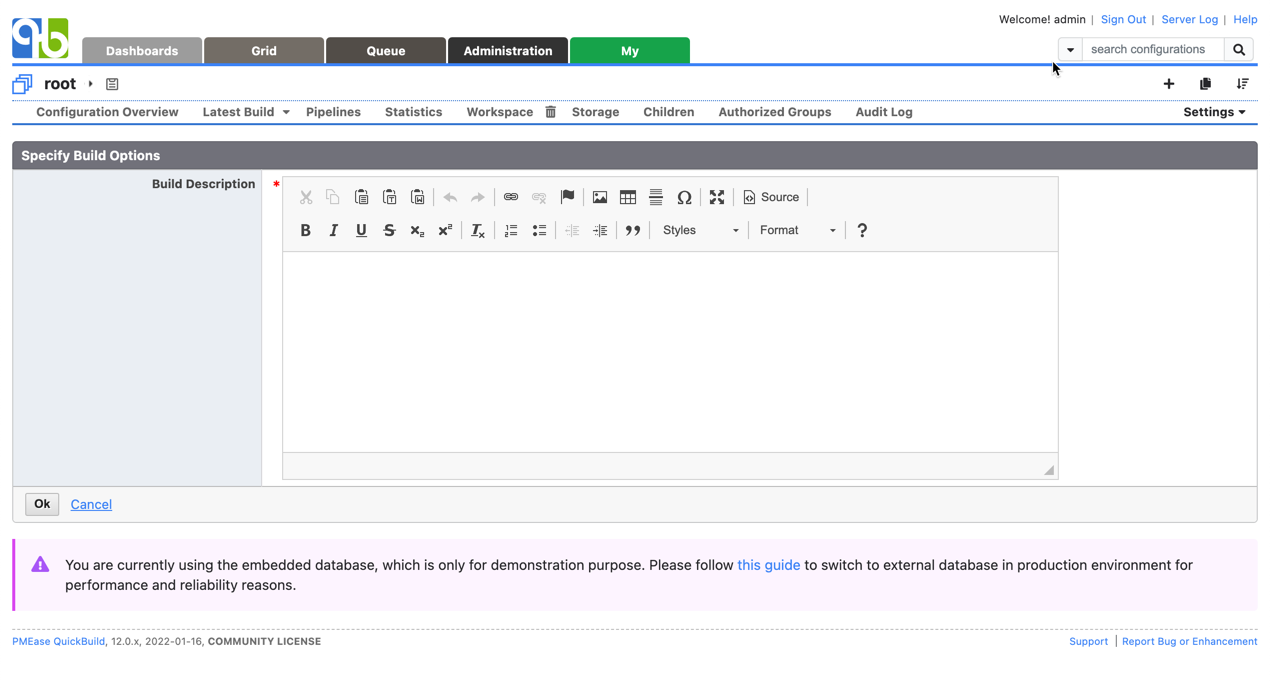 Server wide properties
Server wide properties can now be configured and referenced in scripts. This is useful to manage settings centrally to avoid duplications in places such as dashboard gadgets and cloud profiles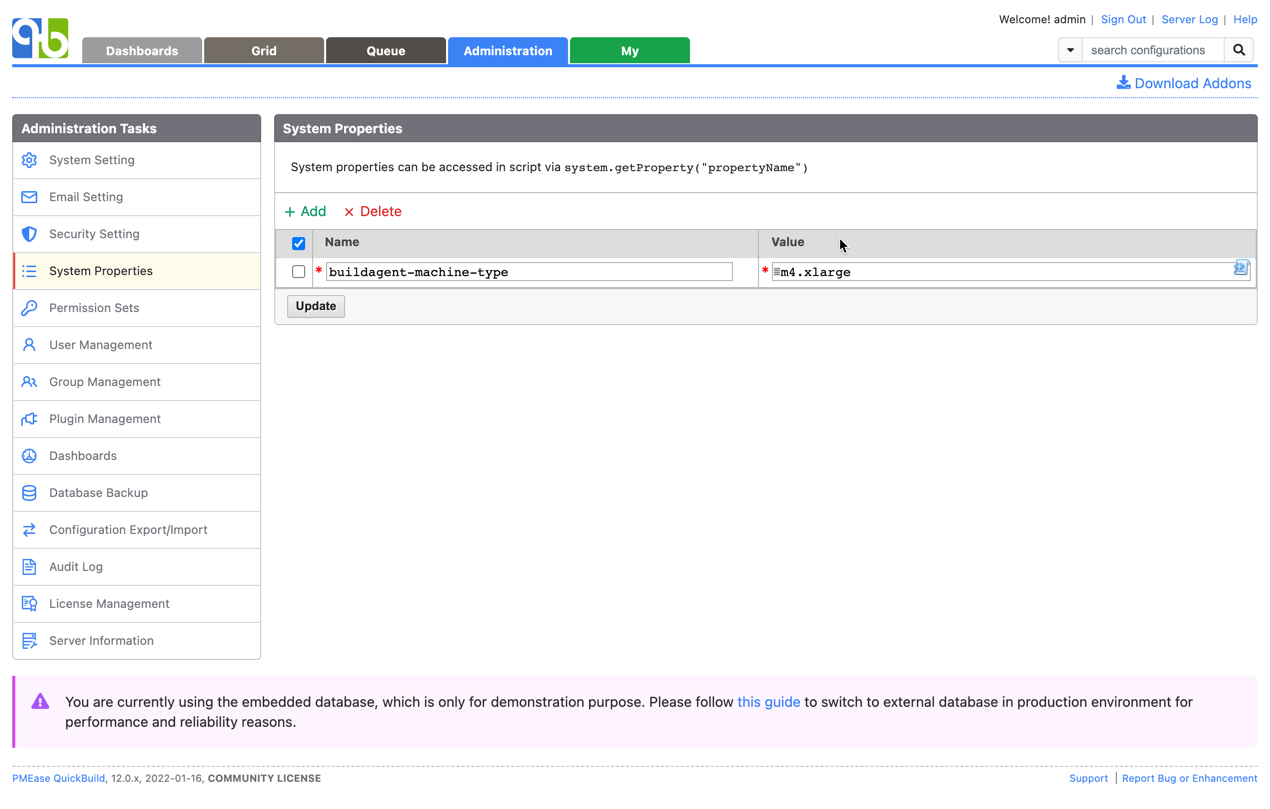 File Upload via RESTful API
File can now be uploaded via RESTful api via a new fileContents section in build request xml. For details, please check the sample build request
REST API authentiation via access token
User can now use either access token or password to access QuickBuild via RESTful api

Scripting support for configuration path in various gadget
Configuration path can now be scripted in various dashboard gadgets desired to specify configurations, including pipeline, build stats, etc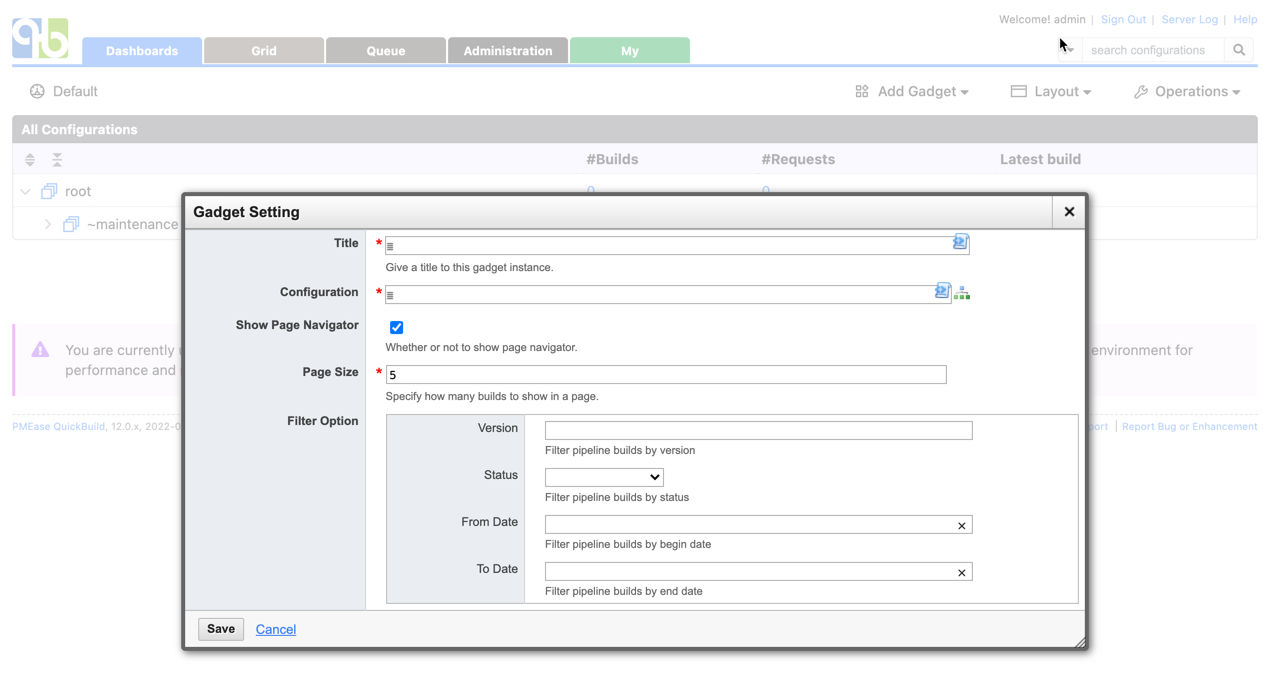 Configure applicable path pattern of a repository to show related SCM changes and issues
Repositories can now be configured with applicable paths, so that SCM changes and related issues are only displayed for interesting paths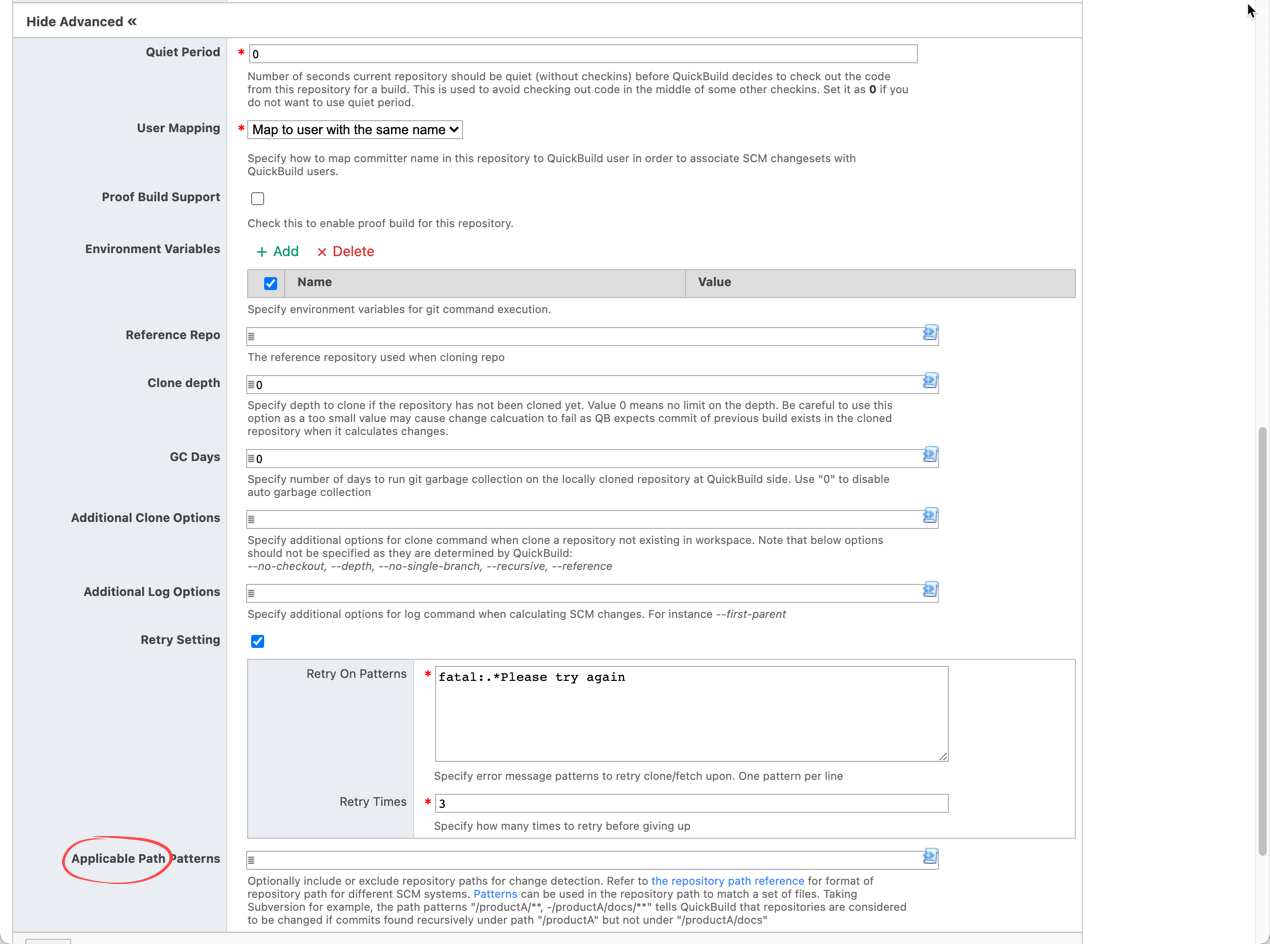 NuGet Support
NuGet is the package manager for .NET. QuickBuild now supports creating packages, installing packages, publishing packages, etc. via NuGet Step.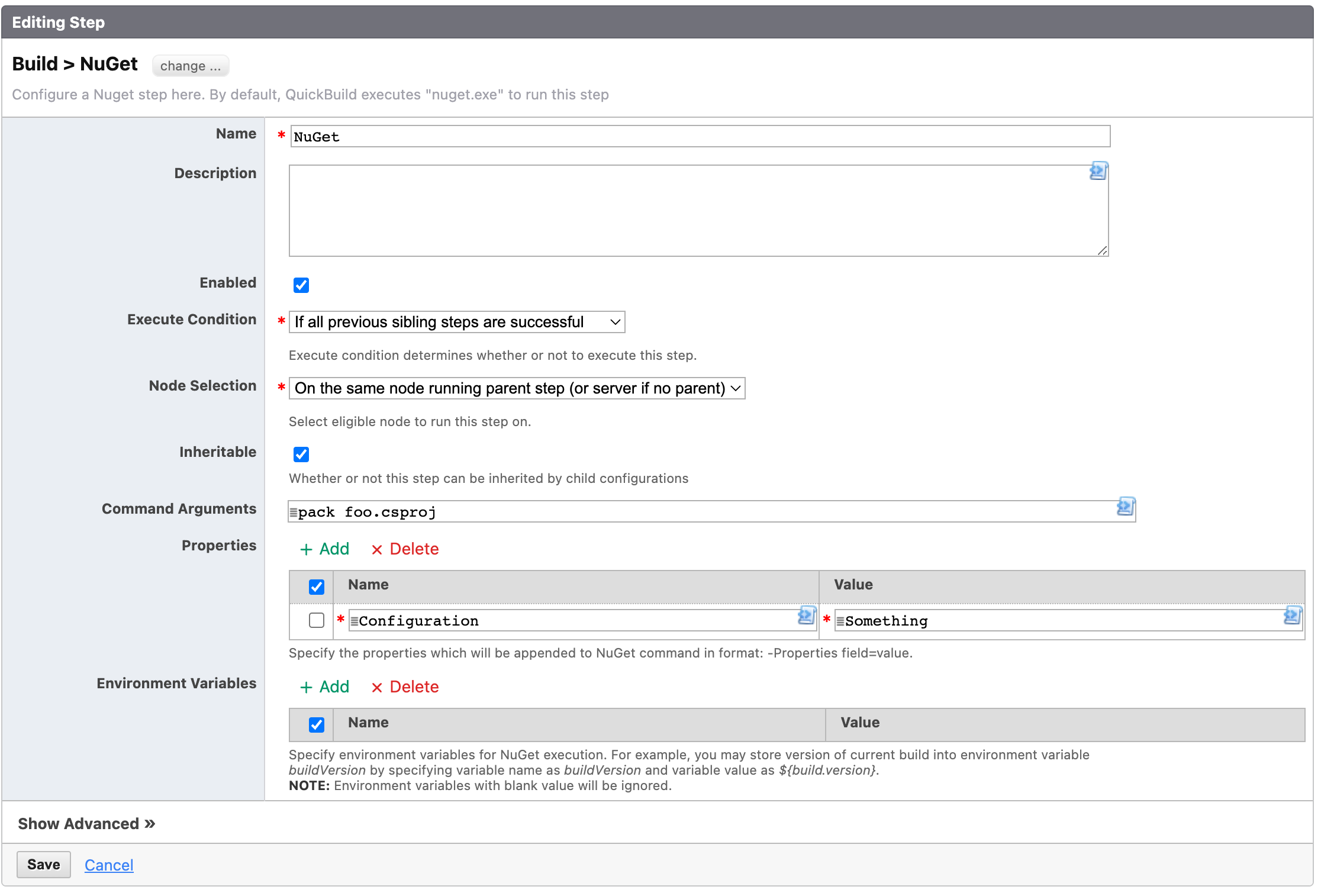 GitHub Organization Webhook
Webhooks can be set up at organization level on GitHub. And organization webhooks send events for all repositories in an organization. In this way, you don't need set up the webhook for QuickBuild configurations one by one, instead, you just need one organization webhook and use variables for each configuration to trigger the builds, it can save your time dramatically.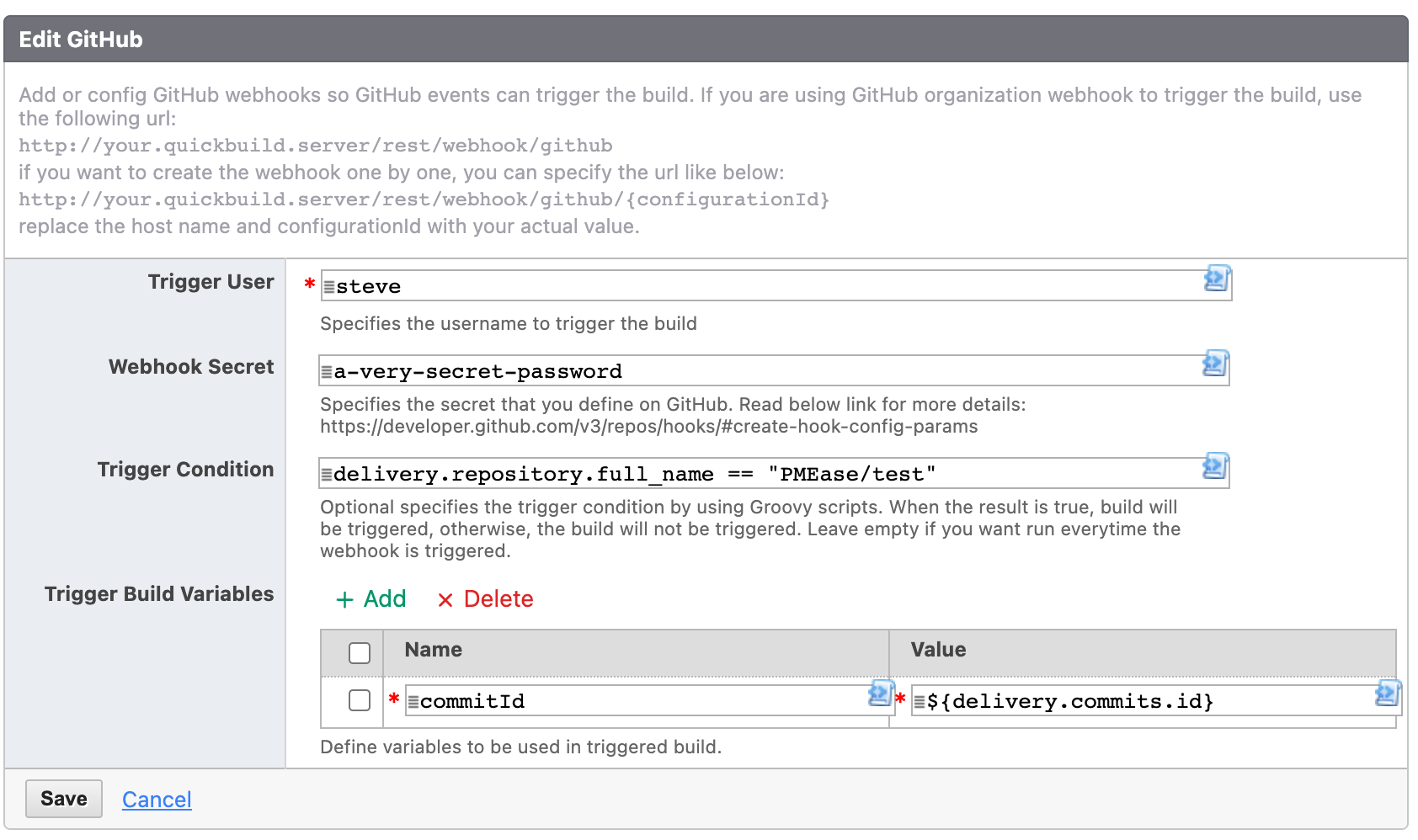 Export/Import Dashboards
Users and Administrators alike can create fantastically usable dashboards, but it's hard to use them in another QuickBuild instance. Now, QuickBuild supports to export dashboards from one, and import them to another.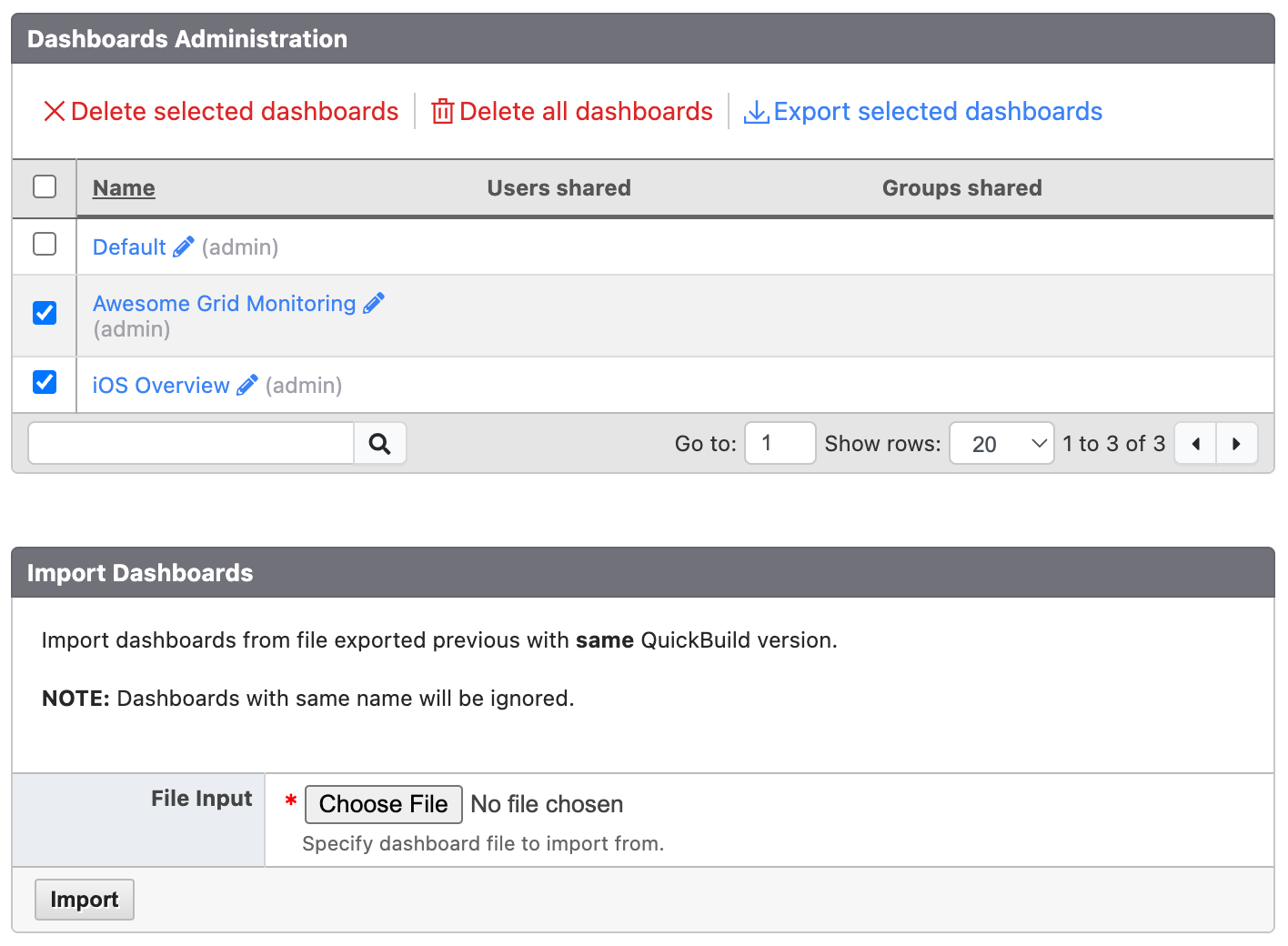 Enhanced JIRA Cloud Support
Now, JIRA Cloud support is enhanced a lot, including below features:
Create a version in JIRA Cloud.
Update issues according to commit messages.
Update issues with specified keys.
Update issues mentioned in commit messages.
Release a version and set the fix versions field for related issues.